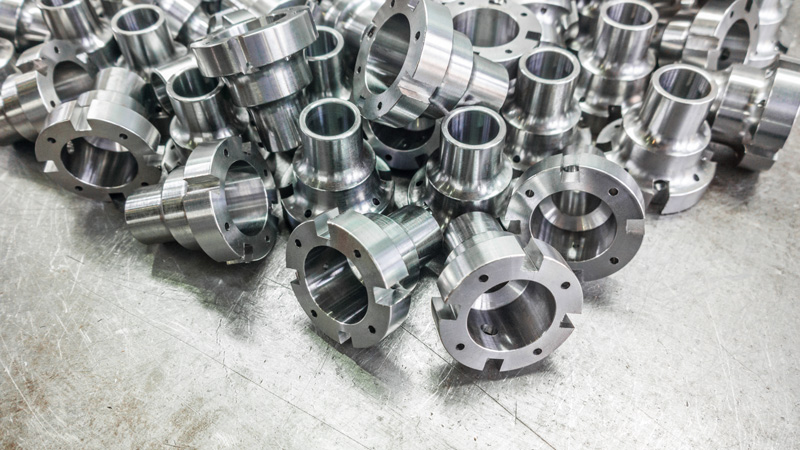 In an ultra-competitive market, companies are confronted with the increasing reactivity from professionals in their market. A reactivity that they must match, or better yet, surpass. At the other end of the commercial supply chain, the customers themselves are raising their level of demand. In a technological context of process automation, where AI allows for extra confidence in speed and reliability, customers feel justified in demanding impeccable results within a short timeframe. Two significant – and closely related – objectives are emerging: to produce quickly and satisfactorily.
To be more competitive, maintain your business relationships, and attract new customers, you need to produce your parts according to your customers' requests, at the best price, and within the required deadlines. The challenges remain the same in the production of single parts, small, medium, or large quantities. How to address them? By equipping yourself with a high-performance and adapted computer-aided design and manufacturing tool. Which CAD/CAM solution should you choose for the production of single parts, small, medium, or large quantities? Here is an update on the main advantages of the software.
Which CAD/CAM solution to save time?
1st objective of the company producing single parts, small, medium or large quantities: to produce quickly. CAD/CAM, provided that the software is well-chosen, meets this need for increasing speed.
As a subcontractor, you need to be able to:
Import parts from any CAD system reliably and without wasting time. Parts are not necessarily created in your software. THEREFORE, your CAD/CAM solution must allow importing through interfaces that automatically retrieve data without error. You can quickly modify parts to meet customer requirements, make them machinable, or redraw drawings.
Easily machine your parts with the latest high-performance technologies available on any type of machine. The more intuitive and ergonomic your CAD/CAM solution is, the easier it is to use, the better you benefit from its advanced technologies. You save considerable time in production.
Simulate, check and control your program before it goes to the machine. This way, you can check that the result is in line with expectations and ensure maximum reliability. The quality of your service guarantees a higher level of customer satisfaction.
To produce single parts, small, medium, or large quantities quickly – and well – check that your CAD/CAM solution meets these requirements.
TOPSOLID SAS is aware of the challenges you face in terms of competitiveness and has integrated all of these basic requirements into its TopSolid'Cam software.
You can model directly in TopSolid or import your workpieces from any CAD/CAM system, thanks to many native or standard interfaces that allow you to retrieve geometries and manufacturing data reliably. Machining paths are automatically recalculated without any user intervention, saving considerable time.
TopSolid CAD/CAM Product Range
A scalable CAD/CAM software that adapts to all situations
The life cycle of parts requires them to be modified continuously. A part is likely to evolve and change revisions over time, especially in the following situations:
Customers' needs vary. To address them accurately, the parts must be adapted appropriately.
As innovations are made, technologies are moving up stream. The performance of the parts must be constantly improved upon to remain up to date in real-time.
The addition of options allows us to offer a higher level of service to stand out in a solid competitive context.
Error corrections must be made efficiently and quickly.
In these conditions, and whatever the situation, you need to be able to rely on a CAD/CAM solution that offers powerful modification functions after the fact. TopSolid'Cam meets this need for scalability thanks to its optimal handling of the modification management aspect for your single parts, small, medium, or large batches.
Regardless of the type of production, TopSolid'Cam manages last-minute changes with precision. For example:
Operations are deleted or reversed, changing the machining sequence? The stock management function allows you to automatically modify the process to adapt to the change in the state of the stock. The operations are associative to the geometry: they follow the modifications of the part, and the programmer's work is considerably lightened.
You had planned a whole program on a machine that breaks down on the day? In a few clicks, you can transfer the programs from machine A to machine B. By switching the machine at any time, without wasting time, you ensure that the program is delivered on time.
CAD/CAM to perpetuate its know-how
Your know-how is a precious intangible asset to be preserved… and perpetuated. How can you do this? With a high-performance CAD/CAM solution for the production of single parts, small, medium, or large batches.
With TopSolid'Cam, you can capitalize on your know-how and optimize its implementation. Our CAD/CAM solution allows you to automate all your operation sequences, which are previously parameterized using your company knowledge and stored securely within the software. You save hours of programming time, and your productivity increases accordingly.
TopSolid'Cam is the modern, scalable and complete CAD/CAM solution for producing single parts, small, medium, and large quantities. The tool adapts immediately and reliably to meet all your requirements, considering the customer's demands. TopSolid'Cam is your best ally for best performance, combining modern technology with ease of use.